The World Series of professional baseball begins tonight in San Francisco where the Giants are hosting the Detroit Tigers for bragging rights as to who is "world champions."
Justin Verlander and Barry Zito will be on the hill as each team tries to get the upper hand in game one. It should be a great series between 2 teams that I truly like & respect.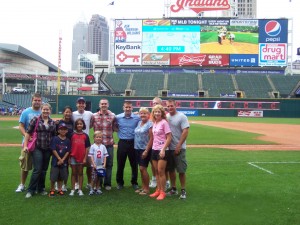 It is somewhat bittersweet though, as my beloved Texas Rangers will be watching from home after 2 straight appearances in the "Fall classic." After being what was considered the best team in baseball for the better part of this past season, Texas faltered during the final couple of weeks, and were eliminated in the wild card play-in game.
I've been a baseball fan for all of my life, and getting the chance to go to the World Series in both of the past 2 seasons was something I will treasure forever. It not only was exciting, and had a certain "magic aura" to it, but having the chance to do this with family members made it very special.
Even though the Rangers lost the series both years, with last year's being especially excruciating, being able to experience that whole atmosphere with Maureen, Brandon, Ethan, Krista, and our oldest son Joey, who works for the Rangers, made it truly memorable for me.
Good luck to both teams this year. It should be a memorable series in its own right, hopefully without any controversy. I'll sit back and enjoy watching, and may the best team win!