Earlier this week, the Indiana high school football sectional pairings were announced. Each year, when this time arrives, it is a time of anticipation as the players and coaches eagerly await word on who they will be playing in the first round, and where that game will take place.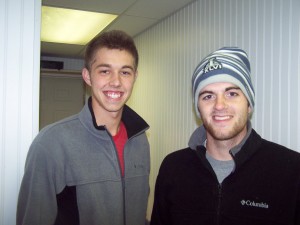 The Dekalb Barons, competing in the Class 4A sectional 11, will host Wawassee in their opening contest on Oct. 19th. The Warriors record stands at 4-4, while the Barons are at 2-6. Dekalb is coming off of a 34-6 loss to Bellmont. They will be playing at Carroll in their regular season finale this Friday, looking to gain back some of that momentum that they created when they defeated Norwell the previous week.
The winner of the Dekalb-Wawassee game will take on the winner of the Plymouth-Northwood game in the second round. Other games in the Dekalb sectional are Angola at Northridge, and Concord at East Noble. On Friday, listen to the Barons-Carroll game LIVE.
The high-flying Garrett Railroaders have one of the best records in NE Indiana, as they stand at 7-1 going into their final regular season game Friday at Heritage. Garrett will travel to Whitko to play their first sectional game. Whitko has a record of 3-5.
The Railroaders had a great win last Friday against the previously undefeated Leo Lions. Garrett won that game 20-6, and they will be looking to win the ACAC title outright if they can get the win against Heritage. The Railroaders will be competing in the Class 3A sectional #18. The winner of the Garrett-Whitko game will play the winner of the Concordia-Jimtown game in the second round.
In the Class 2A sectional 27, the Eastside Blazers will open play at home against Bluffton. Eastside currently stands at 4-4, while Bluffton has a record of 5-3. The Blazers can finish over .500 on the regular season if they can win at Prairie Heights this coming Friday. Eastside has been on a roll as of late, as they won their last 2 games over Fremont & Central Noble by a combined score of 115-22. The winner of the Eastside-Bluffton game will play the winner of the Bishop Luers-Woodlan game in the second round.