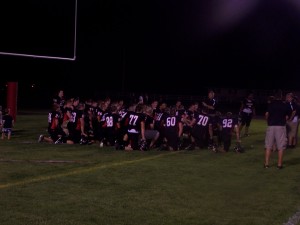 On Friday night, the Dekalb Barons went into their high school football game with their cross-county rival, the Garrett Railroaders, carrying the weight of a 22 game losing streak on their shoulders. Three hours after the contest started, they were walking on air, as Dekalb won the game by the score of 26-13.
As when these 2 teams hook up in any sport, there was a great crowd on hand, and it couldn't have been a better atmosphere for a football game. (other than the fact that it was about 90 degrees at game time)
The Barons got solid performances from a number of players. Senior quarterback Evan Cochran led the offense in a cool, calm, & efficient manner as he spearheaded a number of time consuming drives just when Dekalb needed them the most. His short touchdown run with just over a minute to go clinched the win for the Barons.
Before that touchdown scamper, there was certainly a bit of consternation on Dekalb's sideline, as the feisty Railroaders had cut a 19 point deficit down to 6 at 19-13 with just over 8 minutes to play. An electrifying 96 yard touchdown pass from Noah Follett to Drake Landes is the play that had the Barons squirming, and had wrested momentum over to the Garrett side of the field.
To Dekalb's credit, they took the ensuing kickoff, and were able to regroup, and Cochran led them down the field to that clinching score.
With that 10 ton weight off their backs, the Barons will be going into conference play this Friday against New Haven with a new found sense of confidence & pride.
Congratulations Dekalb!