In the history of Dekalb Baron baseball, who had the greatest individual season at the plate, according to their respective statistics?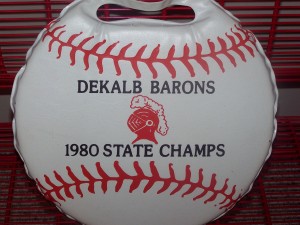 If you are are a student of the game of baseball, you know that baseball is based on statistics, and the bottom line is, stats don't lie.
I was going through the DHS baseball record book, and I decided that I would list what I considered the best overall years ever by an individual player according to the numbers.
I'll start by saying that special kudos must go out to the only 2 players who hit at least .500 with a minimum of 50 at bats. In 2003, Troy Krider hit .544 to set the all-time Dekalb record. In 2001, Travis Coleman compiled a .517 average.
These accomplishments were quite noteworthy, but I wanted to recognize special seasons where DHS players dominated every facet of the stat sheet.
If you go back to what some people consider the "glory days" of Baron baseball, Dekalb had  players in the years of 1979, 1980, & 1981 who would all qualify. In 1979, Ty Cobbs put up a .463 BA while collecting 38 hits, 17 doubles, 6 HR, 41 RBI, and scoring 31 runs.
In 1980, the year Dekalb won the state championship, Nick Phillips posted a .442 BA, had a Baron record 57 hits, had 11 doubles, 9 HR, 27 RBI, and scored 46 runs.
The following year, in 1981, Todd Cobbs batted .495, had 49 hits, 11 doubles, 7 HR, 36 RBI, and scored 30 runs.
In 1983, Bob Squires, who as a freshman, had  the winning hit in the 1980 state championship game, compiled a .471 average, had 49 hits, 12 doubles, 14 HR, 49 RBI, and scored 37 runs.
In 1993, Todd Likens hit .490, had 49 hits, 7 doubles, 4 triples, 6 HR, 48 RBI, and scored 28 runs.
In what was probably the best "back to back" seasons by a Baron player happened in 1994 & 1995. Brad Weber, who would be named "Mr. Baseball" after the 1995 season, accomplished the following. In 1994, he hit .485, had 48 hits, 14 doubles, 6 home runs, 35 RBI, and scored 30 runs. He followed that up in 1995 with a .486 average, 51 hits, 16 doubles, 11 HR, 44 RBI, and scored 45 runs.
In 1996, Jeremy Sassanella put up the following numbers. A .462 BA, 48 hits, 10 doubles, 9 HR, 34 RBI, and 33 runs scored.
Jimmy Long had a tremendous season in 1998 leading Dekalb to the semi-state championship game. He hit .475, had 56 hits, 9 doubles, 4 triples, 11 HR, 43 RBI, and 51 runs scored.
Most recently, in 2009, Zach Pfafman put a season for the ages. Zach hit .490, had 48 hits, 14 doubles, 7 HR, scored 30 runs, and had a whopping 51 RBI, a record that will not soon be broken.
Who's season was the greatest? I'll leave that for you to decide!