Frank Sinatra, God rest his soul, sang the words in one of his numerous hit songs, "Chicago, my kind of town Chicago is."
On Wednesday night, I had the pleasure of enjoying baseball on the 4th of July in Chicago, at U.S. Cellular field as 2 first place American League teams hooked up, the Texas Rangers, and the host Chicago White Sox.
In addition to what promised to be a great baseball game, the festivities included a number of activities before, during, and after the game that focused on American military personnel, both past & present. The after game festivities were capped off by a dazzling fireworks display that was simply top-notch.
Before the game, I was put in my "baseball nostalgic" mode, as my son Ethan & I walked over to the parking lot next to the field where old Comiskey Park used to reside, and took in, even though I had only been there once before, a favorite baseball sight of mine.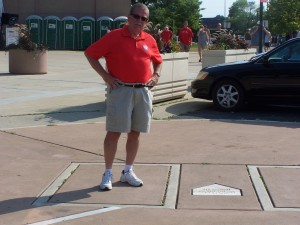 In the parking lot, there is a spot that is marked off where the old home plate area used to be. You can stand in the exact spot where the batting boxes were, and just relish in the thought of all of the great players, and historical baseball events that happened right there.
Ty Cobb, Babe Ruth, Joe Dimaggio, Ted Williams, Mickey Mantle, etc., etc., just to name a few, all took their stances there, dug in, and simply hit away. A World Championship was won by a team that played there in 1917. One of the darkest hours of major league baseball also occurred on that spot, the "Black Sox Scandal" of 1919, when the Sox "threw" the World Series to the Cincinnati Reds.
As you would expect on a night like this, it was a great game. It was a game where 9 innings wasn't enough. It was a game that featured  excellent defense, good pitching, and timely hitting.
The Rangers jumped on top by 3 in the first inning, the Sox came back for 4 in the second. A  Josh Hamilton home run (his 26th), tied it in the third. It stayed that way until the 10th, when newly acquired Kevin Youkilis won it for the home team with a single to left. Youkilis also added a couple of sparkling defensive gems.
All in all, a great night for baseball. Chicago, my kind of town.