Over the years, Dekalb High School has been the "breeding ground" for many baseball players who have gone on to play at the collegiate level, as well as the professional level.
Currently, Jarrett Grube, class of 2000, is playing at the AAA level with the Seattle Mariners. Since Jarrett graduated from Dekalb, there have been a number of players who have made their mark playing college baseball.
Some who come to mind from the 2000's include Troy Krider, Scott Hartman, Kevin Carper, Joey Prebynski, Chris Hansen, Jimmy Long, Kyle Beckman, Lyndon Coleman, Adam Sanborn, Caleb Ehmke, Colton Miller, Jonathon Knowles, and Skyler Rottger to name a few.
On Tuesday night down in Fort Wayne, 4 ex-Dekalb players, all currently playing at the college level, found themselves competing in a game in the Fort Wayne over 18 Summer League.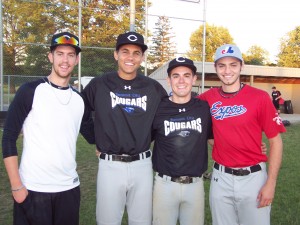 Zach Pfafman, who plays at Evansville, Logan Sparkman, playing at Oakland, and Ethan Prebynski, playing for Trine were playing on one team, while Jarrod Forrest, who plays at Bellarmine, was on the other team.
It was a good game that had some good pitching, some timely hits, and for the most part, some good defense.
It was just a lot of fun watching these guys compete, who for so many years I watched grow up and become solid baseball players, as well as good young men.
You know what the best part is? This Sunday, these same 2 teams hook up in a doubleheader up at Trine University in Angola, and I'll have the opportunity to watch them compete not just for one game, but for two.
As the umpire likes to say, "PLAY BALL!!"